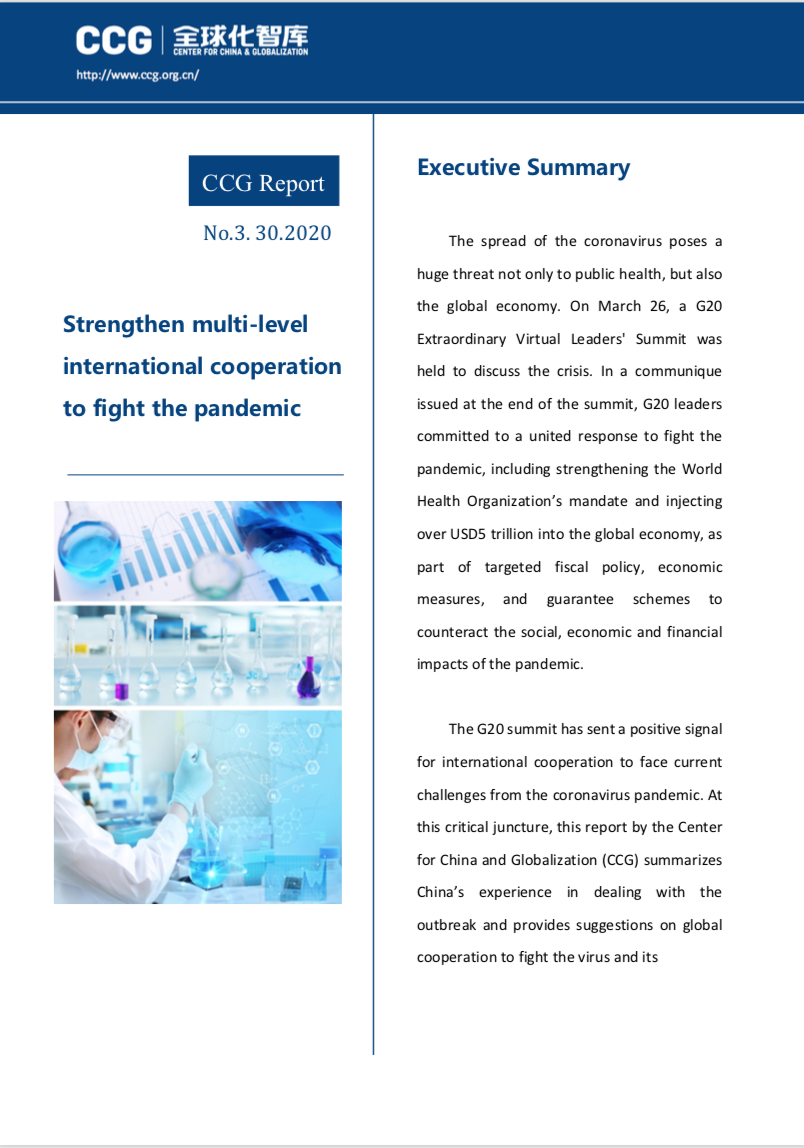 Strengthen multi-level international cooperation to fight the pandemic
March 30, 2020
View large picture
---
Executive Summary
The spread of the coronavirus poses a huge threat not only to public health, but also the global economy. On March 26, a G20 Extraordinary Virtual Leaders' Summit was held to discuss the crisis. In a communique issued at the end of the summit, G20 leaders committed to a united response to fight the pandemic, including strengthening the World Health Organization's mandate and injecting over $5 trillion into the global economy, as part of targeted fiscal policy, economic measures, and guarantee schemes to counteract the social, economic and financial impacts of the pandemic.
The G20 summit has sent a positive signal for international cooperation to face current challenges from the global pandemic. At this critical juncture, this report by the Center for China and Globalization (CCG) summarizes China's experience in dealing with the outbreak and provides suggestions on global cooperation to fight the virus and its economic fallout. It draws on ongoing research and analysis of the unfolding outbreak and recent seminars CCG has hosted featuring Chinese and foreign experts.
The report summarizes key aspects of China's experience on COVID-19.
1. Central coordination – the State Council launched the Joint Prevention and Control Mechanism to coordinate efforts to contain virus spread as well as measures to manage economic and social impacts.
2. Efficiently mobilize and allocate resources in a nationwide effort to deal with the epidemic.
3. Establish effective communication platforms with timely and transparent disclosure of accurate information on the epidemic to promote trust and cooperation from the society.
4. Impose strict social distancing and implement comprehensive non-pharmaceutical interventions.
5. Mobilize extensive networks of grassroots officials and community social care workers to implement response policies quickly and effectively.
6. Accelerate deployment and guarantee the efficient operation of logistics to ensure a safe and stable supply of essential goods.
7. Leverage new digital technologies such as big data, mobile apps and artificial intelligence applications to track exposure to the virus, promote internet-based mass entertainment, and boost online retail.
8. Implement policies at multiple levels in a timely manner to reduce the burden on enterprises and stabilize the economy.
9. Seek to achieve the twin objectives of epidemic control and restarting economic activity, giving due weight to each consideration.
10. Actively carry out international cooperation in the fight against epidemic while sharing information and experience.
Based on these findings, the report makes ten recommendations on responses to the coronavirus and its impact on public health and safety, the world economy, and global value chains. More detail on these recommendations and supporting measures is given in the full report.