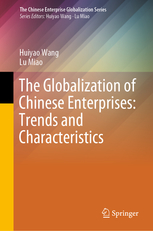 The internationalization of Chinese enterprises is one of the most notable aspects of economic globalization in the 21st century. Despite the 2008 financial crisis and weak global outbound investment, under the "go global" initiative, Chinese outbound investment has gone from strength to strength, while also diversifying in terms of investment modalities, destinations, and industries. However, growing anti-globalization sentiment in some countries has also created new challenges for Chinese firms expanding internationally.
Drawing on nearly 3000 data samples, using both quantitative and qualitative research methods, this book presents unique insights into the features and patterns of Chinese enterprises' globalization. The analysis provides a useful reference for enterprises that have already gone global and those that plan to. In particular, this book investigates challenges confronted by Chinese companies when doing business in foreign countries. It summarizes research covering three angles, namely: the current situation, causation analysis and corresponding solutions, and recommendations for firms, government agencies and other institutions.
This book provides a comprehensive overview to help readers to grasp the broad picture of the international expansion of Chinese enterprises. It has important reference value for enterprises to help devise foreign investment strategy, seize opportunities, and navigate challenges in the course of globalization.