U.S, China Decoupling "Unthinkable": Forbes China Forum
Forbes | September 02 , 2020
---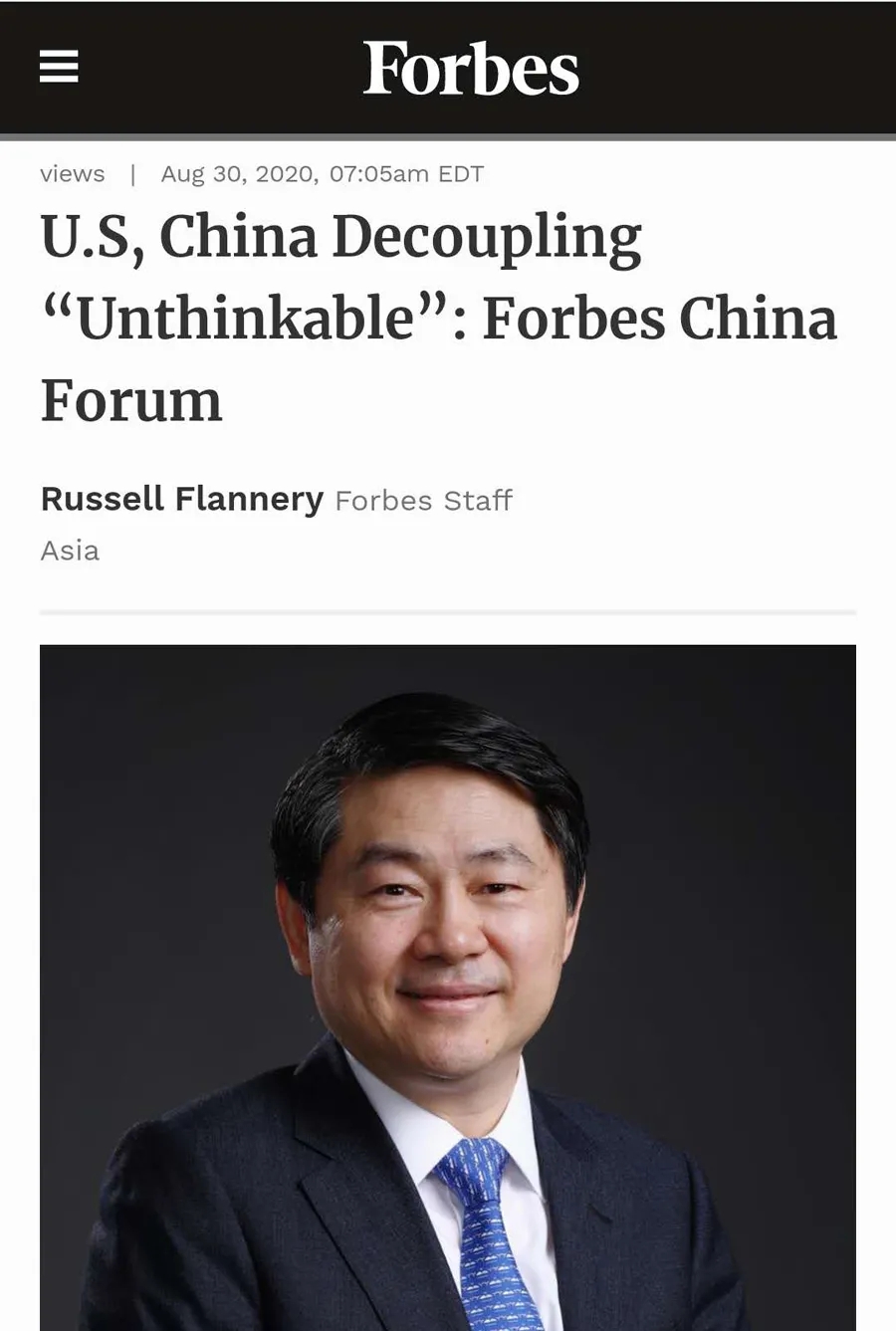 "Business is probably the only bond that still keeps us talking together, and that's very vital", says Wang Huiyao, president of Beijing-headquartered think-tank Center for China and Globalization(CCG). — WANG HUIYAO
---
Vast business ties between the U.S. and China and the overall success of American businesses in the mainland make decoupling of the two economies "impossible," the head of a top Chinese think-tank said at the U.S.-China Business Forum organized by Forbes China on Wednesday.
"In the end, we are not in the Cold War era or the Soviet Union days," said Wang Huiyao, president and founder of the Center for China and Globalization(CCG).  "I don't think the U.S. and China can be totally decoupled, which is impossible, unthinkable," he said. "It has got to be intertwined."
Acknowledging strains between the two nations of late, he also said: "Business is probably the only bond that still keeps us talking together, and that's very vital."Held against a volatile backdrop of the COVID-19 pandemic, stock boom, global politics and trade disputes, the forum highlighted how U.S. and Chinese businesses are trying to navigate the changing currents between two of the world's largest economies and trading partners.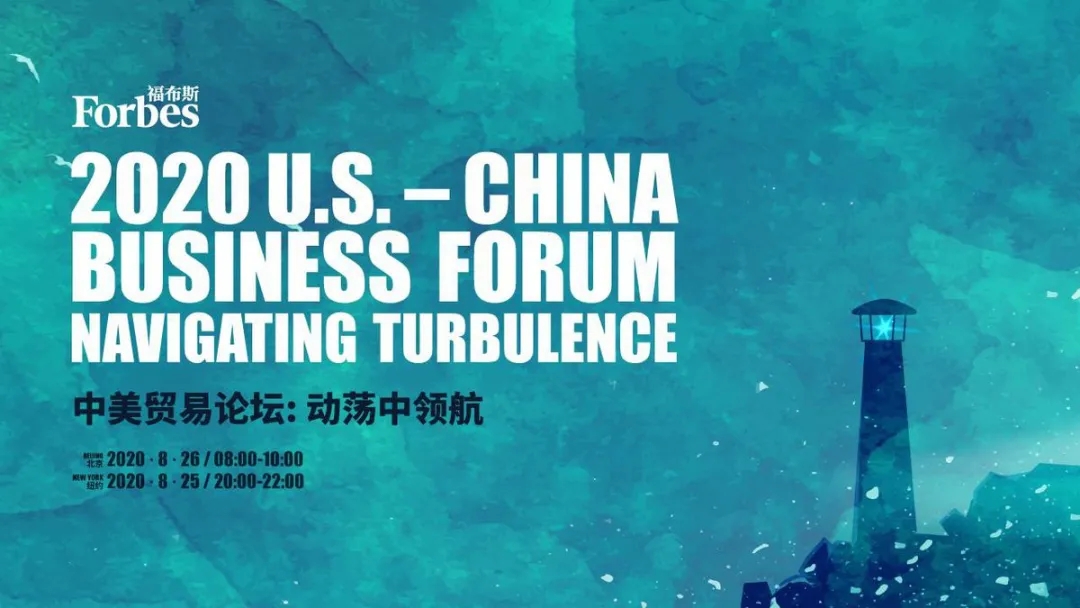 Underscoring how discordant U.S. voices on China have become in an election year, the country drew fire on Thursday in President Trump's speech at the Republican National Convention. Yet a day earlier, the American Chamber of Commerce in Shanghai published a survey that found a proposed Trump ban on Chinese app WeChat would hurt American companies. Last week, President Trump suggested to Fox News that decoupling wasn't off the table. "It's something that if they don't treat us right I would certainly, I would certainly do that."Multinationals, including U.S.-headquartered companies, have played an important role in China's advance, and "China recognizes that," said Wang, who also serves as an advisor to the China State Council, China's Cabinet.  Tens of thousands of U.S. companies have been set up in the country over the years, and businesses such as Apple and GM have a large percentage of their global sales in the country; chains such as Walmart do large amount of sourcing there."I can't see how that can really be abandoned," Wang said. "China is going to be the largest market in the world as time goes on."

"If you look at the history of China's opening up for the last 41 years, it is basically a history of walking up to the West, opening up to the West," and maintaining good ties, Wang said. However, he added, "China has changed profoundly. If people travel to China frequently, you can see China has changed beyond recognition. And that is a fact that is there."

Improved communications are needed to help stabilize relations between the two countries, Wang said. "The narrative is a huge problem right now," he said. On the U.S. side, he suggested that "the benefit of doing business with China should be more emphasized." China is also lacking "a very good communication package, or even a narrative, too," he said. If China can't improve its own communications, "that's really going to cause a lot of problems," Wang said.

Possibilities where the two sides could work together, he suggested, are the Phase One talks launched under President Trump, and an agreement on a Trans-Pacific Partnership that was started under President Obama but abandoned by President Trump on the grounds it favored special interests. Trump now favors an Economic Prosperity Network that would exclude China.

The TPP pact was signed in in 2018, between Australia, Brunei, Canada, Chile, Japan, Malaysia, Mexico, New Zealand, Peru, Singapore, and Vietnam. China, facing trade pressure from the U.S., has recently expressed a willingness to enter into talks to enter the agreement, and the participation of the two could "set a huge platform for talks, settle differences and bring high standards."

"(It's) really important that we actually talk to each other," Wang said. "I'm still cautiously optimistic," Wang said. "We are living in a prosperous 21st century. How can we go back to 19th century (or) the 20th century primitive days?"

Other forum participants included Craig Allen, president of the U.S.-China Business Council; Cho Tak Wong, chairman of Fuyao Glass Industry; IMAX CEO Richard Gelfond; Hao Hong, research head, BOCOM International, a subsidiary of the Bank of Communications; Ken Jarrett, a senior advisor at Albright Stonebridge Group; Duane Kuang, member of the 2020 Forbes Midas List and founding managing partner of Qiming Venture Partners; Dr. Bob Li, Physician Ambassador to China and Asia-Pacific, Memorial Sloan Kettering Cancer Center, George Wang, vice chairman of the Zhonglu Group; and Roger Wang, chairman of the Golden Eagle International Group and chairman of the Committee of 100.
From Forbes,2020-08-30