【SCMP】China, a land of opportunity for EU firms willing to adapt
SCMP | September 28 , 2020
---
● Beijing's policy goals and restructuring mean growth, mostly in domestic consumption, will increasingly come from fields in which EU firms excel.
● Rather than see China's industrial transformation as a threat, European companies should identify opportunities and align their strategies.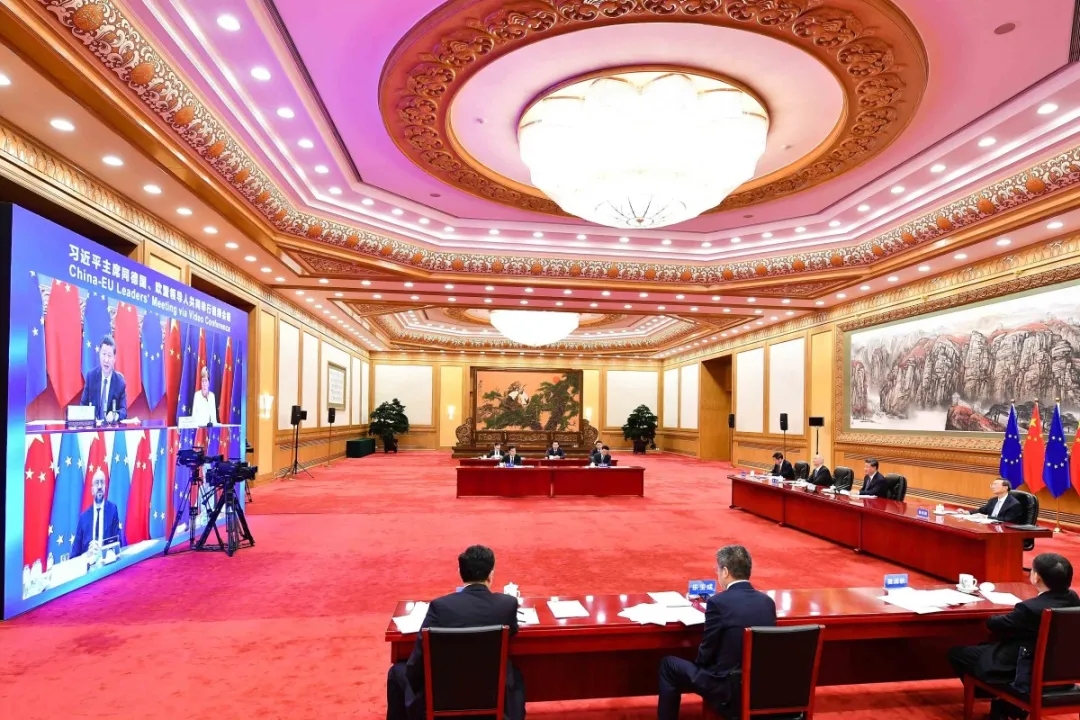 Leaders from China, Germany and the European Union speak via video link on September 14. Talks on a proposed China-EU investment agreement have encountered sticking points, though some observers believe a deal may be reached soon. Photo: Xinhua
---
Talks on the China-EU investment agreement have entered a critical phase. While sticking points remain, last week's virtual summit between Chinese and European leaders raised hopes of a deal this year. President Xi Jinping said talks should be expedited and German Chancellor Angela Merkel noted that the "political will is there on both sides".
The agreement would be a confidence boost for EU investors at a time when CEOs are reassessing the role of China in their global strategies. Contrary to the narrative of decoupling, China remains a crucial growth market for European firms.
Many are choosing to double down on their commitment to the country. In the latest survey by the European Chamber of Commerce in China, more than 60 per cent of respondents said China continued to be a top-three investment destination.
There are good reasons for this optimism, not least China's robust growth outlook and huge market of 1.4 billion consumers. As chamber president Joerg Wuttke noted at the recent Inbound-Outbound Forum, hosted by the Centre for China and Globalisation, China is expected to account for as much as 30 per cent of global growth in the next decade.
China is the only major country expected to grow in 2020, according to World Bank forecasts. Rising incomes and supportive policies will spur domestic consumption.
China's policy goals and restructuring mean this growth will increasingly come from fields in which EU firms excel. The 14th five-year plan will seek to orient China's economy to high-quality consumption, innovation and broader quality-of-life measures such as health and the environment.
Another goal is increasing resilience to external uncertainty. Plans to achieve this have recently crystallised into the "dual circulation" strategy, which aims to boost self-sufficiency while diversifying integration into global markets.
Despite some speculation to the contrary, multinationals will play an important role under this framework as a conduit for technology and expertise to help transform industry and stabilise supply chains. EU firms are well placed to meet this need, especially amid ongoing China-US tensions.
As Premier Li Keqiang said on September 15, far from heralding the closure of China's economy, dual circulation requires more work to attract investment, develop foreign trade and lift opening up to higher levels.
EU firms are poised to gain from this market opening. In the past year, financial sector liberalisation has allowed France's AXA to become China's largest totally foreign-owned property insurer. Germany's Allianz is China's first fully foreign-owned insurance holding company.
European carmakers have gained from the lifting of equity caps, with BMW and Volkswagen set to take full control of long-held joint ventures. There is still work to do with opening up, though. China's strong growth fundamentals, restructuring and opening up present great opportunities for EU companies, but they must be agile and adapt to make the most of these chances.
First, it is important to have a clear understanding of the government's development plans. Rather than view China's industrial transformation as a threat, EU firms would do well to identify the opportunities it presents and align corporate strategy accordingly. For example, EU firms can lean into dual circulation by tapping growth in consumer segments and positioning themselves as partners in China's innovation and upgrading.
European executives should also consider how to align with the reorientation of domestic manufacturing from "Made in China" to "Made for China" – that is, a shift from export-led strategies to tailoring offerings to local needs, preferences and standards. Expanding their local footprint or finding ways to work closer with customers can help EU firms attune to China's regional diversity and fast-moving market conditions.
Second, EU firms need to look beyond the usual first-tier cities to high-growth markets in lower-tier cities and China's central and western regions, where foreign investors can also benefit from preferential policies. Tapping these growth markets may call for new business models and systems for sales and distribution.
Finally, EU firms should build long-term strategic alliances with Chinese firms and other local stakeholders. Unlike the joint ventures of the past, which were often a marriage of convenience, these partnerships can create meaningful synergies and help both sides compete at home and abroad.
For example, advanced manufacturers can partner with Chinese tech giants that have a fine-grained understanding of local realities and the digital reach to unlock new markets. BASF has deepened collaboration with local partners through its innovation campus in Shanghai to develop custom solutions for the auto, construction and consumer sectors. Further afield, there is more scope for Chinese and European firms to cooperate in third markets in the Belt and Road Initiative.
EU firms have a key role in the next chapter of China's development. Sealing the investment agreement would solidify this and boost Chinese investment in the European Union as it recovers from the fallout of Covid-19. A final push is needed to bridge gaps on remaining issues such as market access and sustainability standards, but where there's a will, there's a way.
From SCMP, September 24, 2020