Wang Huiyao: How Biden Could Improve U.S.-China Relations
Bloomberg | November 12 , 2020
---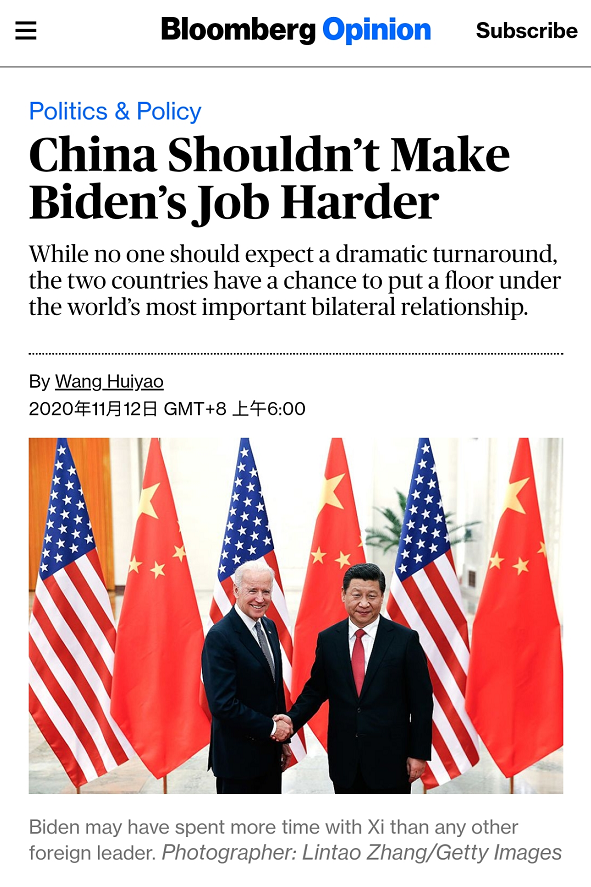 By Wang Huiyao | Founder of the Center for China and Globalization(CCG)

While no one should expect a dramatic turnaround, the two countries have a chance to put a floor under the world's most important bilateral relationship.After four years of erratic "America First" unilateralism under President Donald Trump, President-elect Joe Biden will inherit a slew of foreign-policy challenges. None is more important than stabilizing relations with China. And, while no one should expect a dramatic turnaround, there's reason to hope the U.S. and China can at least put a floor under their relationship and even start to cooperate again.The trade war and Covid-19 have badly damaged mutual trust and virtually frozen high-level dialogue between U.S. and Chinese leaders. There's bipartisan consensus in Washington, D.C. that China is a "strategic competitor" — a view that will likely only become more entrenched as the country expands and gains influence. Biden's own advisers have grown more hawkish on China just as the rest of the U.S. foreign policy establishment has.Still, marked differences between the incoming and outgoing U.S. administrations give reason for optimism. Foreign policy under Biden will surely be more stable and pragmatic than under his mercurial predecessor, who saw China through a narrow lens of trade deficits and short-term political gain. Biden's team is realistic: Top advisers Kurt Campbell and Jake Sullivan, for example, argue that coexistence with China means accepting competition "as a condition to be managed, rather than a problem to be solved."

Biden himself has a long relationship with China going back to 1979, when he was part of the first U.S. congressional delegation to visit the People's Republic. He has spent more time with Xi Jinping than perhaps any other foreign leader, meeting the then-Chinese vice president at least eight times between 2011 and 2012.

Biden's approach to China should differ from Trump's in at least three ways. First, a Biden administration will work more with other powers and international institutions to achieve U.S. objectives. That will include bringing coordinated pressure to bear on China. Nevertheless, policymaking that has to take account of a broader coalition of interests will be more gradual, tempered and amenable to global cooperation. Hopefully this will provide opportunities to ease U.S.-China tensions through bilateral and multilateral channels.

Second, Biden and his team appear to have accepted that China cannot be forced to abandon its developmental path. Biden's advisers reportedly believe the U.S. should shift its focus from "changing China" to "enhancing its own competitiveness." The president-elect has called for greater investment in U.S. education and infrastructure, with a "Buy American" agenda to boost U.S. industry. Again, even if this strategy is driven by the urge to compete with China, it should reduce friction in the economic relationship.

The third and most important difference is that Biden is clear-eyed about the global challenges America faces, which no country can solve alone.

Even as the U.S. passes 10 million Covid-19 infections, for instance, Trump continues to downplay the virus and blame others. Biden has promised a more collaborative approach that will include rejoining the World Health Organization. A summit to promote cooperation on developing, producing and distributing vaccines could offer an early opportunity for the U.S. and China to work together. They could also cooperate to establish a global fund to support post-pandemic recovery in developing countries.

Biden's stance on climate also bodes well. He has promised to rejoin the Paris accords and convene a summit of the world's major carbon emitters to accelerate progress in the fight against climate change. China recently pledged to go carbon-neutral by 2060 and is a willing partner to promote global decarbonization.

Reviving rules-based free trade is a thornier issue. As vice president, Biden played a key role in promoting the Trans-Pacific Partnership and is open to renegotiating the trade pact that Trump abandoned. It's not inconceivable that China could be brought in as well.

Those opposed to Chinese membership should consider that the pact would force China to undertake many of the structural reforms that the U.S. seeks, such as subjecting state-owned companies to market discipline and improving intellectual-property protections. Successful negotiations could also pave the way for reform of the World Trade Organization.

For its part, China would be wise to seize this opportunity by supporting constructive dialogue with the new administration. That means listening carefully to concerns in Washington as well as speaking in a calm, clear voice. Biden will face a divided Congress, measures inherited from Trump that will be politically difficult to undo and a mountain of domestic challenges. Given how critical it is to improve U.S.-China relations, there's no reason to make his job any harder.
From Bloomberg,2020-11-12