[CGTN] Wang Huiyao: Open markets for transfer of rural residential land
CGTN | February 23 , 2021
---
Villagers driving machines to plough the land in Rongjiang County, Miao and Dong Autonomous Prefecture of Qiandongnan, southwest China's Guizhou Province, February 19, 2020. /Xinhua
By Wang Huiyao | Founder of the Center for China and Globalization(CCG)
On February 21, China released the "No. 1 central document," which proposes a series of policies concerning agriculture, rural areas and farmers. The work priorities for this year are building on the achievements of poverty eradication, promoting agricultural and rural revitalization and modernization, as well as reforming the rural collective property rights system. Allowing the transfer of rural residential land through market-based allocation mechanisms is an important step towards these goals.
The document also calls to actively explore the implementation of market systems for rural collective construction land for business purposes and to study and develop ways for farmers to voluntarily give up their homesteads with compensation.
Land reform is a prominent aspect of the "Three Rural Issues" and has a major impact on development and people's livelihoods. The market should play a major role in the allocation of resources. We need to break down institutional barriers that prevent the free flow and equal exchange of urban and rural factors, enable the flow of various factors to the countryside and promote the modernization of agriculture and rural development.
Promoting the reform of rural residential land and allowing it and rural houses to enter the market is necessary to facilitate urbanization. It will allow more rural residents and migrant workers to get compensation and afford urban houses to settle in cities, allowing their children to live with their parents instead of being left behind in villages.
In turn, this will help to boost consumption and economic growth and all the idle land in rural areas can be used for other purposes. Through scientific institutional design and construction, it is still possible for the market to play an essential role in the management of rural residential land without changing its public ownership.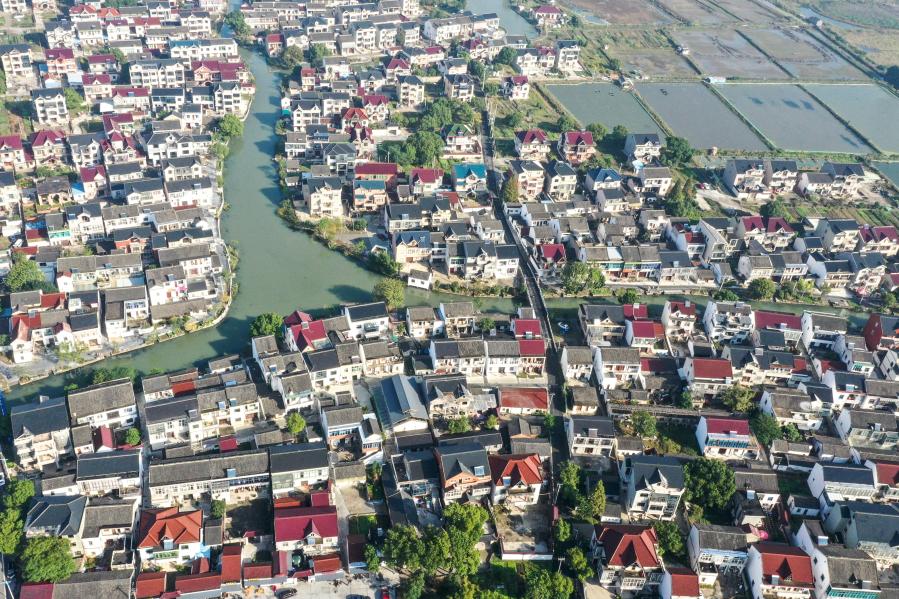 The view of Kaixiangong Village in Wujiang District of Suzhou, east China's Jiangsu Province, October 17, 2020. /Xinhua
The first step is to accelerate pilot reforms of rural residential land transfer. The 2018 "No. 1 central document" proposed to explore the separation of rural residential land ownership rights, contract rights and management rights, laying the foundation for a unified urban and rural development land market. The 2021 "No. 1 central document" again called to prudently promote pilot reforms.
The second priority is rationally planning unused rural residential land and strengthening the supervision of pilot programs. A portion should be turned into urban construction land and another portion into agricultural land, according to value. Scientific management methods should be applied to ensure the sustainability of rural development by standardizing the adjustment of urban and rural construction land and streamlining approval procedures.
Third, industrial planning should be taken into consideration as land is being transferred. The document suggests the implementation of a negative list system in planning and to prioritize land use for rural industrial development and construction according to a rationally decentralized industrial layout. Favored options include tourism and cultural industries as these sectors can attract capital, talent and technology to rural areas, boosting local development.
Fourth, with flourishing industries and increasing local employment, villages could grow into small towns – a new model of urbanization that avoids the problems of crowding in big cities and environmental degradation. The development of small towns can also help to control population density and balance urban-rural development.
Fifth, after farmers are compensated for voluntarily leaving their homesteads, contractor enterprises and local governments can pay social insurance for these farmers (including those who migrate to cities) at a certain percentage. These farmers tend to be migrant workers; their social security participation rate is low due to poor job stability, employers refusing to pay the relevant contributions, or weak awareness of social security. In 2018, the participation rate was only 22 percent. Mandatory social insurance participation for farmers can strengthen the protection of their legitimate rights and interests and reduce the economic pressures they face after retirement.
In conclusion, further reform of rural residential land is a key way to stimulate the use of idle residential land in rural areas, encourage two-way flow between urban and rural areas and create wealth for 800 million farmers, thus fostering "new urbanization."
From CGTN, 2021-2-23