Wang Huiyao: How creating a better business environment can boost foreign investment in China
SCMP | August 02 , 2021
---
■ It is essential to welcome innovation-driven multinational enterprises by creating a more fair and open business environment to promote China's development
■ Attracting more multinational enterprises to develop in China is an important way to nurture friendly and stable relations between China and other countries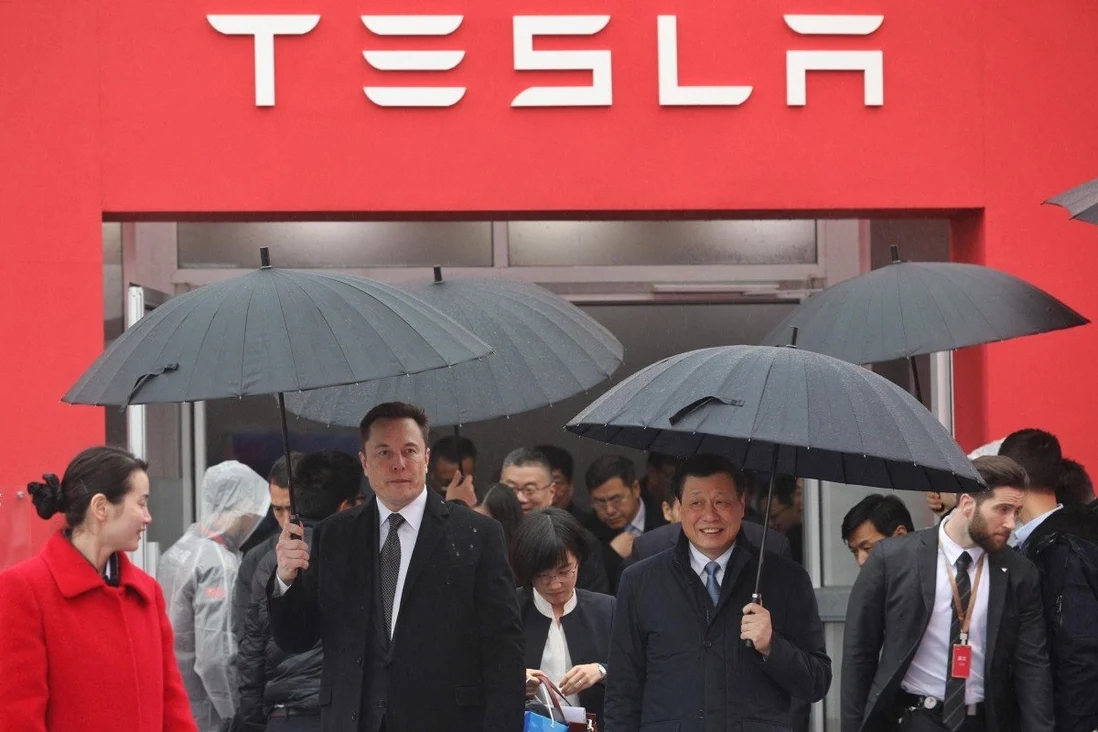 Tesla CEO Elon Musk (left) walks with Shanghai Mayor Ying Yong during the ground-breaking ceremony for a Tesla factory in Shanghai on January 7, 2019. Photo: AFP
By Wang Huiyao | Founder of the Center for China and Globalization(CCG)
---
Last year was a milestone for China as it become the world's largest recipient of foreign direct investment for the first time. Foreign investment in China reached US$144.37 billion.
Recent data speaks to China's growing appeal for foreign investment. According to the Ministry of Commerce, the actual use of foreign investment nationwide from January to June this year was 607.84 billion yuan (US$94.1 billion), a 28.7 per cent year-on-year increase and 27.1 per cent over the same period in 2019.
By the end of 2019, the number of multinational companies investing and operating in China had exceeded 1 million. More than 490 of the world's top 500 companies have invested in China, with multinational enterprises increasingly taking China as an important part of their globalisation strategy.
The enthusiasm of multinational enterprises to invest in China, despite the global pandemic, comes from their long-term optimism about the Chinese market. According to the National Bureau of Statistics, China's gross domestic product grew 7.9 per cent in the second quarter of 2021, up from 3.2 per cent for same period last year, demonstrating the resilience and potential of the Chinese economy.
This potential is buttressed by the nation's 1.4 billion people, a middle class of nearly 400 million people, and complete industrial value chains and supporting facilities. Cutting-edge technology and artificial intelligence have generated new impetus for China's economy, as have the government's endeavours to improve the nation's business environment.
Also, the efficient control of the Covid-19 pandemic has highlighted the stability of the Chinese market, a relative advantage compared to other economies.
The Centre for China and Globalisation recently held a closed-door seminar with representatives of 19 multinational enterprises from the United States, Europe, Japan and India on the development of multinational enterprises' business in China. The discussion confirmed that foreign companies are seeking to increase investment in China and gain more market share. However, the politicisation of economic, cultural and technological issues has exacerbated uncertainty for foreign companies in China.
In the past 40 years of China's reform and opening up, multinational enterprises in China have made important contributions in terms of tax revenue, employment, technological progress, innovation, structural upgrading, market expansion and foreign trade. They have promoted China's economic and social development, transformation and upgrading.
As one of the most vibrant and vital components of the Chinese economy, foreign-invested enterprises account for less than 3 per cent of the country's firms. However, they contribute nearly half of foreign trade, a fourth of the output value and profits of industrial enterprises above the scale, a fifth of tax revenue and about 13 per cent of urban employment.
Multinational enterprises enhance economic cross-border exchanges while also nurturing closer ties between countries. In the future, it is essential to welcome innovation-driven multinational enterprises by creating a more fair and open business environment to promote the new "dual circulation" development pattern in China.
First, central and local governments should give more support in terms of implementing opening-up policies, ensuring a fair business environment and preferential policies for enterprise development.
Also, policies around the Foreign Investment Law, Regional Comprehensive Economic Partnership and other trade agreements should be implemented. This means improving supporting measures, verifying the thorough implementation of policies in stages and gradually resolving contradictions with existing policies.
Moreover, efforts should be made to create a fair, open and transparent business environment by improving intellectual property rights, formulating industry road maps and forming a mechanism to understand and act on feedback from foreign enterprises.
Second, industry associations should enhance channels to convey the needs of multinational enterprises and participate in the formulation of industry standards and related policy discussions.
As an important link between the government and enterprises, industry associations play a vital role in understanding the needs of various enterprises, regulating the development of industry, serving their members, interpreting policies and passing relevant opinions and suggestions to the government. National and local industry associations should treat all types of enterprises fairly so multinational enterprises can gain a greater sense of participation and help create a fairer business environment.
On the other hand, multinational enterprises can make more efforts to assume corporate social responsibility, enhance their innovation capacity and improve crisis management. They should improve their understanding and respect China's interests, and they can establish a good image by better assuming corporate social responsibility and participating in telling their successful stories in China.
Geopolitical uncertainty affects the security and stability of multinational firms' industrial chains. To deal with this, their priority should be to continuously enhance their innovation capabilities and strive to make themselves stronger and bigger.
They should also strengthen their analysis and judgment of the international and domestic policy context and upgrade their capabilities regarding crisis warning and response. Amid a more complex international context, multinational enterprises can serve as a kind of glue between countries.
Creating a better business environment to attract more multinational enterprises to develop in China is an important way to nurture friendly and stable relations between China and other countries. At the same time, China can also promote economic and social transformation and development by attracting and supporting multinational enterprises.