Wang Huiyao: Why China is still a solid growth engine and safe harbour for multinationals amid rising anti-globalisation
SCMP | March 24 , 2022
---
■ Multinationals caught in geopolitical crossfire are finding that China continues to offer growth and opportunities, as long as they can find niches aligned with Beijing's long-term development strategy.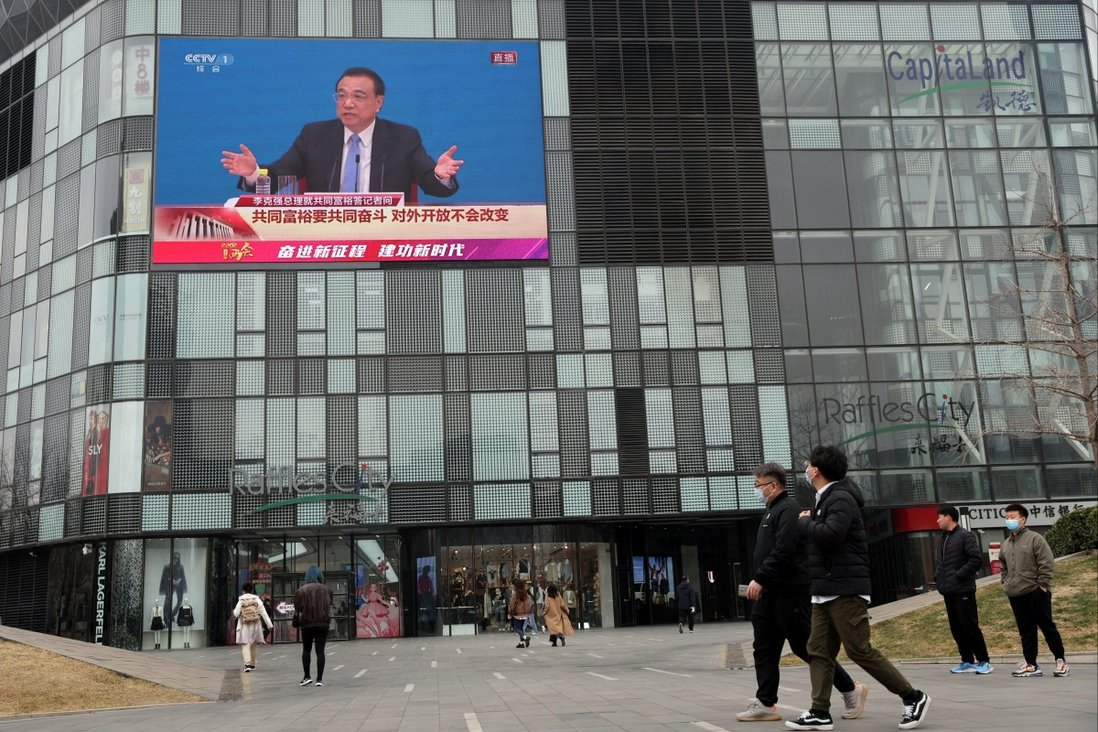 A giant screen shows a news conference by Premier Li Keqiang, following the closing session of the National People's Congress in Beijing on March 11. Photo: Reuters
By Wang Huiyao | Founder of the Center for China and Globalization(CCG)
In the early 1990s, the arrival of McDonald's in Moscow and Beijing marked the reopening of these markets to the world and the dawn of a golden age of globalisation.
Over the next decade, multinationals spread across the globe as technology advanced, trade barriers were cut and finance liberalised, making it easier than ever for goods, capital, people and ideas to move across borders.
Transnational firms helped knit the world together with supply chains, bringing investment, jobs, a shared consumer culture and new ways of doing things.
How times change. Anti-globalisation sentiment has been on the rise for some time and recent weeks have seen an exodus of multinationals from Russia, including?McDonald's, Starbucks and Coca-Cola. Mastercard and Visa have suspended operations in Russia,?cutting off Russian citizens?and companies from large swathes of the global financial system.
This trend goes beyond the Ukraine crisis. Multinational corporations, long the key drivers of globalisation, increasingly find themselves caught in geopolitical crossfire, becoming tools and targets of economic statecraft in the new game of?weaponised interdependence.
Yet, for all the talk of doom and decoupling amid a "new Cold War", the facts on the ground in China tell a very different story as multinationals continue to reap bumper profits and contribute to local development.
Last year, utilised foreign direct investment into the Chinese mainland surged by 20.2 per cent to US$173.48 billion. Foreign investor sentiment remains overwhelmingly positive. The most recent survey by the European Union Chamber of Commerce in China (EUCCC) found that 59 per cent of members are considering expanding their investment in the country, up 8 percentage points from 2020.
Similarly, the last survey by the US-China Business Council (USCBC) found that 43 per cent of members plan to accelerate resource commitments to China over the next 12 months, up 18 percentage points from the year before.
The recent?Two Sessions?further underscored China's role as a growth engine and safe harbour for foreign investment amid heightened global volatility.
This year's official GDP target of around 5.5 per cent signals a robust pro-growth policy stance. The stimulus programme outlined to achieve this was notably business-friendly, including?2.5 trillion yuan in tax rebates.
Premier Li Keqiang's last government work report also outlined further business-friendly reforms such as fully implementing list-based management for matters requiring government approvals and nationwide recognition of electronic licences to facilitate trans-regional operations.
Improving the business environment has been a key part of his agenda over the past decade, which has seen business entities in China grow by 100 million to 150 million. His tenure also saw key breakthroughs in foreign investment, including a new law to help?level the playing field?for foreign firms, and a foreign investment negative list that has been cut to just 31 items today.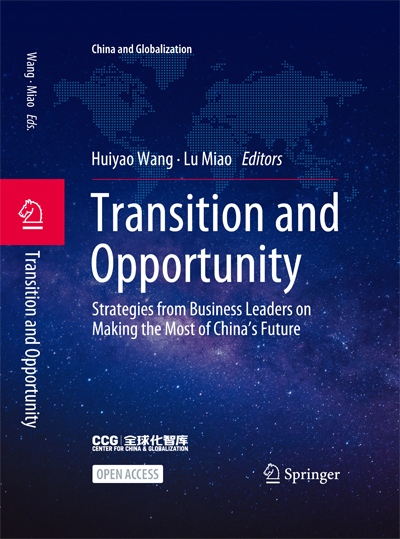 Despite this progress, there is still room for improvement. This was highlighted by several contributors to?Transition and Opportunity: Strategies from Business Leaders on Making the Most of China's Future, a new book by the Centre for China and Globalization(CCG).In some policy areas, as EUCCC president Joerg Wuttke writes in the book, there is still a gap between the rhetoric and implementation of opening up. Addressing these issues will enhance multinationals' ability to act as change catalysts, helping to cultivate talent and lay the foundation for industrial upgrading by providing high-quality inputs and raising the expectations of Chinese consumers.On the corporate side, foreign investors must play to their strengths and find niches aligned with China's long-term development strategy, which combines regional integration with efforts to make the economy more sustainable and less reliant on external resources, technology and markets. This year's government work report points to three promising areas in particular.First, foreign investment in sectors such as advanced manufacturing and chemicals that can help China internalise industrial chains will be encouraged and may benefit from deeper market opening or preferential policies. The work report called for a steering of foreign investment towards manufacturing and?hi-tech areas?and in China's central, western and northeastern regions.

Second, sectors that aid domestic spending such as for cars and other consumer goods remain promising, given favourable policy directions and the continued rise of China's middle class. At the Two Sessions, new measures were pledged to support spending on big-ticket items such as cars and home appliances.

Foreign ownership limits for carmakers were?scrapped?this year, allowing firms like Tesla to comfortably ramp up production and sink roots by?building R&D centres?in China. The?Regional Comprehensive Economic Partnership?raises the potential for China to develop into a base for regional car exports.

Third, foreign firms with strengths in low-carbon fields can benefit from?China's dual carbon goals, using sectoral and local decarbonisation plans, to be released this year, to identify market opportunities and forge partnerships with local players, especially the state-owned enterprises (SOEs) tasked with driving decarbonisation by building alliances and green supply chains.

Green partnerships with SOEs can also help multinationals embed themselves in low-carbon supply chains and gain access to new customers, given SOEs' role as orchestrators or "gatekeepers" for key sectors and projects.

Success will not come easy in China's fast-paced and increasingly competitive market. Gone are the days when global firms can rely on advantages in technology and branding to ride a wave of double-digit GDP growth by simply replicating their models in China.

But multinationals still have a crucial role to play in local development. In an uncertain world, China continues to be a source of growth and opportunity for multinationals that can adapt and localise to rise above the competition.
Wang Huiyao's Page at SCMP: